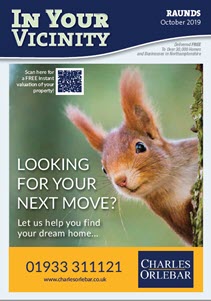 Welcome to the October edition of IN YOUR VICINITY.
At the moment the weather has been fantastic for this time of year, however, the gardens and ground conditions could really do with some rainfall, lawns are starting to look bare and yellow. Regular temperatures of mid-20's has been a good extension to the summer, and in general, most September's have recently been good for dry and warm conditions.
The collapse of Thomas Cook has just hit the news, having horrific impacts onto people currently away needing to get home, and people having planned trips seeing them totally cancelled. There will be an impact on job losses, plus also spare a thought to any businesses who were suppliers of Thomas Cook and are owed a lot of money, the likelihood is smaller businesses will also go to the wall. There will be questions asked how it has happened that another established name has collapsed, but ultimately it will come down to the business not being competitive and overheads too high.
The Rugby World Cup is now well underway, the first time it has been hosted by a nation away from the Top 8 nations, and it looks like a tournament that a few sides have high hopes of being victorious. October 19th has Champions Day at Ascot and October 6th has the Prix de l'Arc Triomphe in Paris which will see the finale to the horse racing flat season this month, England play two vital away 2020 qualifiers on the 11th to the Czech Republic and 14th to Bulgaria. The F.1 season gets towards the final rounds with Japan hosting on the 13th and Mexico hosting on the 27th.
If you have made the big decision to venture into a new business, or indeed you need to promote your established business with new services or even just want to remind the public then please get in touch us about advertising. We are looking to attract Pubs, Restaurants, Entertainment, Leisure, Garages, Cafés, Butchers, Gift Shops, Health and Beauty, Taxi and Mini Bus companies. Our publication reaches over 120,000 readers and has been produced monthly for 14 years. Many find this very rewarding when looking for or advertising their own businesses and services. Prices are very competitive and can be from as little as £1 per day!
Contact 'IN YOUR VICINITY'- 01933 650588 to get your BUSINESS noticed and included in the next edition. With a total distribution of over 30,000 – don't miss out on the fantastic advertising rates currently available; nearly seven years this publication has been in production and helped many businesses with their sales and marketing – go on – give it a go!