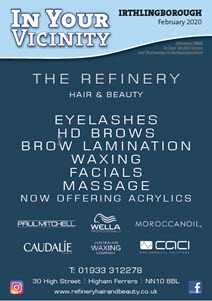 Welcome to the February edition of IN YOUR VICINITY.
Whilst approaching the end of January and seeing the end of winter in sight, plus the mornings and evenings suddenly getting much more lighter, we so far have escaped the cold snow and ice around here, although the rain has been relentless for the last few months it has been surprisingly a rather mild winter. Yes we all know snow can come down still but with spring around the corner we can only hope it wont last too long and cause very little disruption.
There is one topic of discussion wherever you seem to be and that's the traffic congestion all around us at the moment, sometime adding an extra 15-20 minutes to any journey. The key factor to me is accepting the need for improved routes and highways, they do need to be designed to suit 25 years or more and don't have to revisited and have money spent again. Around us we have seen many good new roads and then within a few years they have required an upgrade, the A45 and A14 needing more lanes for instance, and the Rushden Lakes roundabout.
The Six Nations starts at the beginning of the month with Wales v Italy and Ireland v Scotland the opening day fi xtures on Saturday Feb 1st, England visit France on Sunday Feb 2, followed by travelling to Scotland the following weekend. Many pubs and clubs are making a big thing of attracting people into spending time watching the games. The increasing popular SuperBowl in Miami is on Sunday Feb 2nd and on the 22nd we have Tyson Fury fighting Deontay Wilder in Las Vegas. Whilst Liverpool are champions in waiting the Champions League knockout stage starts during this month.
If you have made a big decision in 2020 to venture out into a new business, or indeed you need to promote your established business with new services or even just a reminder to the public then please get in touch us about advertising. We are looking to attract Pubs, Restaurants, Entertainment, Leisure, Garages, Cafés, Butchers, Gift Shops, Health and Beauty, Taxi and Mini Bus companies. Our publication reaches over 120,000 readers and has been produced monthly for 15 years. Many fi nd this very rewarding when looking for or advertising their own businesses and services. Prices are very competitive and can be from as little as a £1 per day!
Contact 'IN YOUR VICINITY'- 01933 650588 to get your BUSINESS noticed and included in the next edition. With a total distribution of over 30,000 – don't miss out on the fantastic advertising rates currently available; nearly seven years this publication has been in production and helped many businesses with their sales and marketing – go on – give it a go!