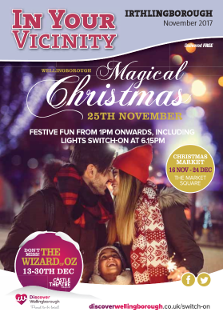 Dark mornings and nights are well and truly upon us, however the temperatures have been very mild for this time of year, the winter months are just around the corner and there is still lots of colour in the gardens, lawns still need cutting, and trees still have a good amount of leaves. Locally we experienced some windy days but managed to miss the recent hurricane that caused widespread damage over Ireland and Scotland.
As we approach the end of the year many of us start to plan for our holidays for next year, but with the problems created by Monarch and the situation still with Ryan Air it is probably good to be booking with a regulated travel company rather than the chance of DIY and the saving of a few quid, it is likely air fares will rise and the price of holidays will increase even further. From a personal experience it is hard to understand a company as Monarch being allowed to take bookings and money without being covered, the events and loss of the interest of customers wishing to go to Egypt, Turkey and Tunisia affected their core market, they then attempted to take part of the 'cheap flights' to Europe but were not geared up to do it profitably and hence their demise.
The first weekend of the month will see many organised bonfire and firework events, it surely has to be more cost effective and more importantly safer to go and support these e vents, with all proceeds going to charities. Later this month on Nov 22nd we have the Autumn Budget, the first one since the general election, Chancellor Philip Hammond, I feel needs to deliver immediate changes to help small businesses, changes to help the young achieve getting onto the property ladder, and also provide a pay increase for Nurses & Paramedics, Police and Fire Services. The Economy isn't as strong as I believe the media is stating, uncertainty with Brexit isn't helping but it appears businesses are looking to lose people rather than hire people.
We are looking to attract Pubs; Restaurants; Butchers; Gift Shops; Health and Beauty parlours; Taxi and Mini Bus companies, in fact anyone who is looking to get themselves noticed for the Festive season.
With many new people moving into the area is your business in need of more local awareness. Regular advertising and promotions are a big help in achieving results and our publication is an established option that is cost effective for any sized business. Many readers find this very rewarding in finding business and services. Prices are very competitive and can be from as little as a £1 per day.
Contact 'IN YOUR VICINITY'- 01933 650588 to get your BUSINESS noticed and included in the next edition. With a total distribution of over 30,000 – don't miss out on the fantastic advertising rates currently available; nearly seven years this publication has been in production and helped many businesses with their sales and marketing – go on – give it a go!