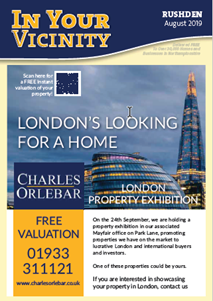 Welcome to the August edition of IN YOUR VICINITY.
From the very wet weather during the month of June the last four weeks have been very dry with some excellent warm sunny weather, and the forecast of very high temperatures for the end of July and good weather for the summer holidays of August.
What a weekend we recently experienced for sporting fans – a Cricket World Cup Final, so tight and a game that will never be witnessed of the same level of intensity again, Lewis Hamilton coming from behind and winning the British Grand Prix for a record sixth time, and then a Wimbledon mens' final going down to the wire with the longest ever final which again will take some years to come close to matching. Quite a few were flicking from one channel to another with the cricket and tennis finishing exactly the same time. Sport in general needs a fix with getting the young generation interested and committed long term to participate again, and hopefully the success of the cricket and England becoming World Champions will give us the kickstart to invest with the young kids taking up the game.
August in Sport will see the start of the Ashes series in Cricket, Glorious Goodwood race festival takes place, followed by the festival at York. Woburn hosts the Ladies Golf Open beginning on August 1st, F.1 sees the Hungarian Grand Prix on August 4th; and the football season commences with the Football League starting their league matches on the 3rd and the Community Shield between Man City and Liverpool taking place at Wembley on the 4th.
Rugby League Challenge Cup Final also takes place at Wembley on the 24th, the MotoGP at Silverstone on the 25th and the US Tennis Open at New York starts on the 26th.
Roadworks and traffic delays are still creating lots of issues and I guess many of us have just become accustomed to them now and accept it will be like this for a few years now, new developments are just continuing to grow around us which means inevitable delays.
If you have made the big decision to venture into a new business, or indeed you need to promote your established business with new services or even just want to remind the public then please get in touch us about advertising. We are looking to attract Pubs, Restaurants, Entertainment, Leisure, Garages, Cafés, Butchers, Gift Shops, Health and Beauty, Taxi and Mini Bus companies.
Our publication reaches over 120,000 readers and has been produced monthly for 14 years. Many find this very rewarding when looking for or advertising their own businesses and services. Prices are very competitive and can be from as little as a £1 per day!
Contact 'IN YOUR VICINITY'- 01933 650588 to get your BUSINESS noticed and included in the next edition. With a total distribution of over 30,000 – don't miss out on the fantastic advertising rates currently available; nearly seven years this publication has been in production and helped many businesses with their sales and marketing – go on – give it a go!