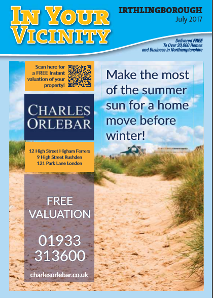 Welcome to the JULY edition of IN YOUR VICINITY. As we enter the start of our summer months, with the school holidays looming upon us, we have just experienced exceptional hot weather, and locally we are in desperate need of some rainfall, with gardens already turning off colour.
It is being predicted that we are going to enjoy a long hot dry summer, so this will enable us to enjoy nice relaxing breaks or just sitting in the garden enjoying a bbq.
This month we see the Wimbledon Tennis commence on July 3rd with the final on Sunday 16th, Towcester hosts the biggest greyhound race for the first time with the Greyhound Derby, the Lions tour of New Zealand comes to a finish with the 3rd Test on July 8th in Auckland, Silverstone hosts the British Grand Prix on Sunday July 16th, the Golf Open at Royal Birkdale begins on July 20-23, and in cricket England will play South Africa with three Test matches during July alone.
M&S at Rushden Lakes opens on Friday July 28th at 10am, with other stores and restaurants opening around the same time, a footbridge has been installed across the A45 and after witnessing the project develop it is now just a few weeks away from the opening start. Still lots of new housing developments are progressing around us, this county is probably one of the most sought after places to live currently.
With many new people moving into the area is your business in need of more local awareness. Regular advertising and promotions are a big help in achieving results and our publication is an established option that is cost effective for any sized business. Many readers find this very rewarding in finding business and services. Prices are very competitive and can be from as little as a £1 per day.
Contact 'IN YOUR VICINITY'- 01933 650588 to get your BUSINESS noticed and included in the next edition. With a total distribution of over 30,000 – don't miss out on the fantastic advertising rates currently available; nearly seven years this publication has been in production and helped many businesses with their sales and marketing – go on – give it a go!