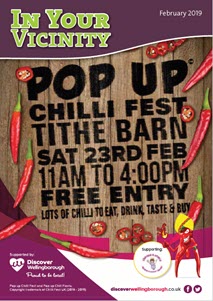 Welcome to the FEBRUARY edition of IN YOUR VICINITY.
The thought of possibly getting away with a nice mild winter has now disappeared with first local snow flurry coming down and followed by a temperature drop to give us very icy conditions, the forecast is for more snow and cold winter freezing temperatures, however with Spring and March just a few weeks around the corner, we have not had the weather too bad.
As Brexit takes over the current news, there is a lot of negativity in the press, but locally I know of many situations where there are more jobs than there are people searching, many businesses are very busy despite difficult conditions, travel agents are reporting better than average holiday bookings at the start of this year, and there is still lots of housing developments being planned.
High Street shops and some supermarkets, however, have reported very poor Christmas sales. Are the results down to a change in society and habits, the way people now spend their money or is it also down to working hard to make your products and services attractive and marketing them correctly.
How often do you see small businesses refusing to change working methods and services, spending no money on marketing, and then blame the general public for reducing their spend and then forcing them to close?
Over the next few months there will need to be a lot of patience over local traveling, the repair works on the A45 near Rushden/Irchester will impact every nearby town and village, especially with roadworks and closures ongoing on alternative routes, the option of leaving 45 minutes ahead of every journey may not be the full answer, and until it happens I am not sure anyone has fully measured the amount of our local road traffic. In the long term, it will be of benefit to everyone with better travel improvements and disruption has to be accepted, however annoying it may be sitting stuck in your vehicle.
February sees the start of the Six Nations Rugby, this tournament is getting more popular and more competitive each year, and it is really difficult to select a winner before a ball is kicked. Many pubs and clubs have used the opportunity to have special themed events to attract punters in to watch the games.
If you have made a big decision to venture out into a new business, or indeed you need to promote your established business with new services or even just a reminder to the public then please get in touch us about advertising. We are looking to attract Pubs; Restaurants; Entertainment; Leisure; Garages; Café's; Butchers; Gift Shops; Health and Beauty; Taxi and Mini Bus companies.
Reaching over 120,000 readers and our publication has been produced monthly for 14 years. Many readers find this very rewarding is fi nding business and services. Prices are very competitive and can be from as little as a £1 per day!
Contact 'IN YOUR VICINITY'- 01933 650588 to get your BUSINESS noticed and included in the next edition. With a total distribution of over 30,000 – don't miss out on the fantastic advertising rates currently available; nearly seven years this publication has been in production and helped many businesses with their sales and marketing – go on – give it a go!