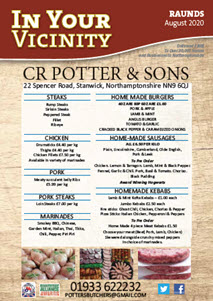 Welcome to the August edition of IN YOUR VICINITY.
We trust this finds you safe and well, the Covid situation is far from over and we all need to keep adapting to a different way of life and respect the guidelines to stop this virus taking control again. The ease of restrictions are changing all the time however we have to see what is occurring around the world and stop another outbreak.
Many businesses are really finding it hard and unfortunately many places are making redundancies to try and stay afloat. Lots of people are very unsure what the future is going to bring so we are all watching what we spend. Pubs and restaurants have re-opened to new guidelines and restrictions, but the footfall is very low and impacted sales could see the closure of quite a few in the near future.
Test measures have taken place to see how spectators can return to sport and theatres, and the smaller venues really need this to work so they can start to recover some monies to survive. I know many people who have decided this year to just enjoy a UK break, knowing everywhere has restrictions still in place it is just a change of scenery, and everyone has had an enjoyable time even with Covid restrictions.
The football season has got close to completion with the new season beginning again in mid-September, and there is currently noises that hopefully some spectators will return in the Autumn. Grassroots level sport has the approval to commence in September too, there are new guidelines to follow which could well be a new way of life moving forwards.
Schools are going back in September, with quite a few children having not been to school for over five months by the time they return, let us hope this experience doesn't have too much impact on their education, the home-schooling has worked well and been enjoyed by many. Eat Out & Help Out, the government campaign during August to help get footfall into restaurants during August is a new idea, getting 50% off each meal up to a maximum value of £10 hopefully will help and kick start the struggling businesses, whilst helping the consumer to enjoy a night out at the same time, please go and support your local businesses if you want them to survive.
Are you a business that has recently re-opened and do you need assistance in promoting your services and products to the local area, please contact us and help your business gain more sales and enquiries. Prices are very competitive and can be from as little as a £1 per day!
Contact 'IN YOUR VICINITY'- 01933 650588 to get your BUSINESS noticed and included in the next edition. With a total distribution of over 30,000 – don't miss out on the fantastic advertising rates currently available; nearly seven years this publication has been in production and helped many businesses with their sales and marketing – go on – give it a go!