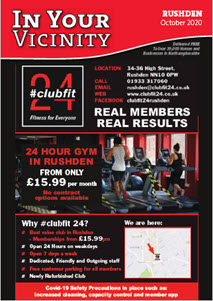 Welcome to the October edition of IN YOUR VICINITY.
We hope this finds you all safe and well as we currently find ourselves living within stricter guidelines as we all look to get through this situation. It has also created a debate with many feeling the restrictions are not strong enough and the others feeling we should continue our lives as normal as possible and just let things be. The situation has fuelled many debates as strong as Brexit did not too long ago, oh and let us not forget that is around the corner and not fully resolved exactly what is happening.
September was a lovely month with nice warm sunshine and very little rainfall, yet again every year the month of September delivers good weather for us in Northamptonshire. Over the summer months quite a few have enjoyed a staycation by spending time around the UK, without necessarily going to the seaside or the cities. This has certainly helped out struggling tourist locations, despite the Covid restrictions people have had a break and a change from home.
Schools have all started back and working hard to have everyone staying safe, whilst enjoying their lessons and education, something that is absolutely vital as we move forward. Sports at all levels have started which again is important for fitness, health and mental reasons, having something regular to look forward to instead of lockdown is good for our wellbeing and just as important even if you are just watching rather than participating, we hope this isn't something we have taken away in the near future.
Businesses are still struggling with many just doing their best to get through to 2021 and working through a damage limitation mentality with sales taking a massive dip but still having all the overheads to contend with. Lots of people have lost their jobs with the younger generation suffering the most, we hope the government will look to make some changes to help everyone back into work as quickly as possible.
Are you a business that has recently re-opened? If you need assistance to reach potential customers in your local area with your products and services do get in touch and help your business gain more local sales enquiries. We can support you with marketing expertise to help you get the most out of your advertising with In Your Vicinity magazines. Contact us today for competitive rates from as little as £1 per day to help raise your business profile. Every month we land on the doormat of over 30,000 homes in our local area as well as digitally on their smart devices too.
Contact 'IN YOUR VICINITY'- 01933 650588 to get your BUSINESS noticed and included in the next edition. With a total distribution of over 30,000 – don't miss out on the fantastic advertising rates currently available; nearly seven years this publication has been in production and helped many businesses with their sales and marketing – go on – give it a go!