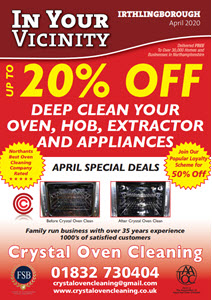 Welcome to the APRIL edition of IN YOUR VICINITY.
We are all currently experiencing diffi cult times which apart from our very old generation we have not seen before, we sincerely hope you are all keeping safe and well and where necessary, you are being looked after and cared for.
People are scared of exactly the unknown future that lies ahead, the virus travelling around and also for many their financial situation. Workers are losing their jobs and having their working hours cut; businesses having a large shortage of sales and income or in some cases having to close because there is no customers. We all have to remain positive and be strong for each other, especially looking out for the ill, elderly and vulnerable.
At the time of writing it would seem that most people are accepting the virus situation and following guidelines to remain as safe as possible. Yes, there are concerns on how they pay their bills and for food/essential supplies, but I am certain one way or another there is a solution and we will all come through this. Unfortunately be prepared this is still going to get worse before it gets better.
The panic buying of many is going to create our next problem, the selfi sh attitude of those clearing the shelves so the elderly and vulnerable are struggling to go without, plus all the key workers doing their best to keep us looked after, and nursing the ill, then find after finishing a shift that the greed of others is meaning they have nothing left.
It is quiet shameful that today's society can actually act in this way, the message there is plenty of supplies to go around is just being ignored and shops and supermarkets are finding it impossible to manage. Grabbing six months supplies of items is uncalled for, let us hope common sense does come quickly to these people.
Once this pandemic is over, any business wanting help to push sales with promotions or offers then please contact us about advertising. We are looking to attract Pubs, Restaurants, Entertainment, Leisure, Garages, Cafés, Butchers, Gift Shops, Health and Beauty, Taxi and Mini Bus companies. Our publication reaches over 120,000 readers and has been produced monthly for 15 years. Many find this very rewarding when looking for or advertising their own businesses and services. Prices are very competitive and can be from as little as £1 per day.
Contact 'IN YOUR VICINITY'- 01933 650588 to get your BUSINESS noticed and included in the next edition. With a total distribution of over 30,000 – don't miss out on the fantastic advertising rates currently available; nearly seven years this publication has been in production and helped many businesses with their sales and marketing – go on – give it a go!