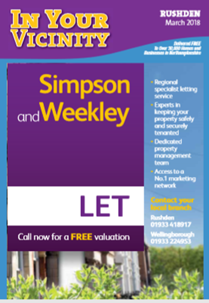 Daylight hours are noticeably getting longer and spring is just around the corner despite the weather still providing some cold snaps, but as we approach March we all feel that the worse of the winter weather is behind us. The start of 2018 appears to have seen most of us suffering at some point from a bad cold/cough or flu symptoms, many people have been off work or school, whilst we have all experienced the workplace resembling a doctors' waiting room.
Sunday March 11th is Mothering Sunday, if you have not already got plans then make sure you arrange something – and sometimes just a visit or phone call can make someone's day. St Patricks Day is Saturday March 17th and plenty of venues will be organising events. The clocks go forward later on into the month on March 25th when we will get more lighter evenings, Easter this year is earlier than normal, with Good Friday on March 30th.
Developments are moving forward around us, Rushden Lakes continues to have new stores opening and Phase 2 wont be too far away, however everyone will be wishing the road infrastructure was better. Stanton Cross Development in Wellingborough has moved forward, but presently creating serious peak time traffic delays with the closure of one access road into Wellingborough, but once completed it will add an extra 3,500 homes, schools, leisure and community facilities, health centre, parkland and the new look train station.
The sporting month of March sees the World Indoor Athletics Championship in Birmingham is on 2nd- 4th, Six Nations has fixture on March 10th and the conclusion on March 17th with the possibility of a shoot-out between England v Ireland. The jump racing highlight is the Cheltenham Festival on March 13th – 16th, the FA Cup quarter finals take place on the weekend of 17th – 18th, Down under on March 22nd in New Zealand the is the Cricket 1st Test v England, the Boat Race between Oxford v Cambridge is on the 24th, and the long awaited fight between Anthony Joshua and Joseph Parker takes place in Cardiff on Saturday March 31st.
We are looking to attract Pubs; Restaurants; Entertainment; Leisure; Garages; Café's; Butchers; Gift Shops; Health and Beauty; Taxi and Mini Bus companies.
New businesses that are starting up fresh in 2018 or businesses now offering new services or products, if you have a story you wish to tell and promote your venture, then let us know – reaching over 120,000 readers and our publication has been produced monthly for 13 years. Many readers find this very rewarding in finding business and services.
Prices are very competitive and can be from as little as a £1 per day!
Contact 'IN YOUR VICINITY'- 01933 650588 to get your BUSINESS noticed and included in the next edition. With a total distribution of over 30,000 – don't miss out on the fantastic advertising rates currently available; nearly seven years this publication has been in production and helped many businesses with their sales and marketing – go on – give it a go!