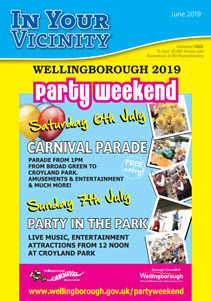 Welcome to the June edition of IN YOUR VICINITY.
As the start of the summer is around the corner, we have recently been enjoying good warm dry weather and the feeling is we may experience the lovely summer of 2018 again. Many of us are busy preparing gardens with a bit of DIY, planting flower beds and pots, getting the lawn into good condition, cleaning the patio, painting around the house, decking and fences ready to hopefully enjoy many weekends and evenings relaxing outside.
This month is the start of village fetes; carnival parades; and party in the park events where many people go and support the local charities and all we need is good dry weather to help proceedings. Village pubs have been getting their beer gardens prepared and ready now to be enjoyed with detailed events planned. Sunday 23rd will be Father's Day, so don't leave it too late to go and get something planned.
On the sporting front this month on June 6th we see England participate in the inaugural Euro Nations League finals where we compete with against Netherlands in the semi-final and Portugal play Switzerland in the other semi-fi nal. The Cricket World Cup begins with England the host nation and expectations for success are high. The US Open Golf at Pebble Beach begins on the 13th, and in Horse racing the Derby at Epsom is the 1st June with the magical summer festival of Royal Ascot starting on the 18th. Formula 1 racing has three races with Canada on the 9th, France on the 23rd and Austria on the 30th.
If you have made a big decision to venture out into a new business, or indeed you need to promote your established business with new services or even just a reminder to the public then please get in touch us about advertising. We are looking to attract Pubs; Restaurants; Entertainment; Leisure; Garages; Café's; Butchers; Gift Shops; Health and Beauty; Taxi and Mini Bus companies. Reaching over 120,000 readers and our publication has been produced monthly for 14 years. Many readers find this very rewarding.
Prices are very competitive and can be from as little as a £1 per day!
Contact 'IN YOUR VICINITY'- 01933 650588 to get your BUSINESS noticed and included in the next edition. With a total distribution of over 30,000 – don't miss out on the fantastic advertising rates currently available; nearly seven years this publication has been in production and helped many businesses with their sales and marketing – go on – give it a go!