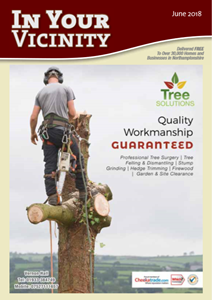 At this present time as we approach another Bank Holiday the weather has certainly changed for the better with plenty of warm sunshine and no rain, there are predictions we are going to have a lovely warm and dry summer, fingers crossed but we have heard all that before, but currently it is a pleasant change compared to the first four months of this year we had received 280ml of rainfall recorded against a reading of 137ml from the first four months 2017.
The wet weather has created quite a few issues on the roads, and I am sure all of us drivers have recently looked on in horror the number of potholes in the roads, many are complaining some minor roads have been like it now for three or four years, but it is a danger for cyclists, motorbikes, and cars looking to swerve and avoid them. I am not sure who has the answer for this problem but I think if we could see regular work attending to repairs, then we would be more content.
Festival season is now in full swing, each weekend there will be quite a few festivals running up and down the country and into Europe, but no Glastonbury this year, locally Wellingborough is holding their Party in the Park on Sunday July 8th at Croyland Park, and many pubs with beer gardens are planning Beer Festivals.
Let us know of about any Village Fetes; School Summer Fairs, Party in the Parks events, or local Carnivals and where possible we will help spread the word.
This month is another busy sporting month, the Epsom Derby is on Saturday June 2nd, with Royal Ascot running from 19th -23rd, the French Tennis Open takes place at the start of the month, and Queens Club tournament commences June , the Rugby tours of England going to South Africa and Ireland going to Australia with test matches on the 9th, 16th, and 23rd. Canada on June 10th and France on June 24th host the F.1 Grand Prix races, and the World Cup in Russia kicks off on June 14th, England have their matches v Tunisa on 18th, v Panama on the 24th and completing their group matches v Belgium on the 28th, with past failings this tournament our expectations are not too high, and maybe on this occasion the young squad could surprise a few teams.
We are looking to attract Pubs; Restaurants; Entertainment; Leisure; Garages; Café's; Butchers; Gift Shops; Health and Beauty; Taxi and Mini Bus companies.
New businesses that are starting up fresh in 2018 or businesses now offering new services or products, if you have a story you wish to tell and promote your venture, then let us know – reaching over 120,000 readers and our publication has been produced monthly for 13 years. Many readers find this very rewarding in finding business and services. Prices are very competitive and can be from as little as a £1 per day!
Contact 'IN YOUR VICINITY'- 01933 650588 to get your BUSINESS noticed and included in the next edition. With a total distribution of over 30,000 – don't miss out on the fantastic advertising rates currently available; nearly seven years this publication has been in production and helped many businesses with their sales and marketing – go on – give it a go!